The Energy Committee was established to study and recommend energy conservation policies, projects, and energy-related issues for the Select Board's initiation and, further, to provide assistance/information to Town residents to implement renewable energy and conservation efficiency measures in their homes and daily lives.
In an age of rising fuel prices, a declining supply of conventional fuels, and the threat of global warming associated with heavy fossil fuel consumption, the Town is exploring proactive means by which it can pursue energy conservation, energy efficiency, and the adoption of renewable sources on the pathway to a sustainable energy future.
Already, citizens of Shutesbury have voted with their feet to support renewable energy.  In 2006 Shutesbury placed second in the Commonwealth for the percentage of households (8%) that signed up for the "Green Up" Clean Energy Choice program. This program supports renewable sources in electric power generation and provides funds to help towns to pursue renewable energy projects and energy education.  These funds can be complemented by additional grants from the Renewable Energy Trust from the Massachusetts Technology Collaborative for use in local solar and wind energy projects.  Congratulations to the Shutesbury community for taking a proactive stance on energy!
Projects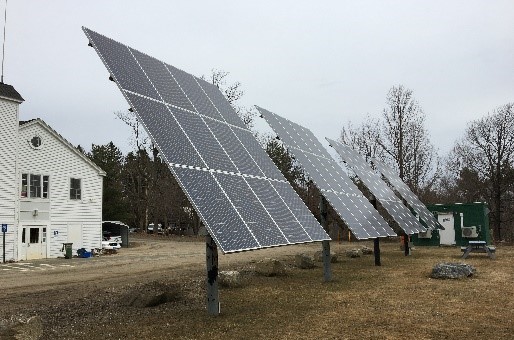 In 2008, the Town completed installation of a small 2kW solar array on the Elementary School.  That project was followed by installation of a larger 10kW system behind Town Hall in 2009.
In 2011 Shutesbury was awarded a Green Community Designation with a grant of $142,275 for energy efficiency projects.  That grant funded a 15 kW pole-mounted solar PV system at the Fire Station and an energy audit of the Fire Station to determine appropriate energy conservation measures for the heating and hot water system and implementation of DOER-approved measures from the completed audit.  The grant additionally funded the following energy conservation measures:  an HVAC upgrade at the Town Hall;  air sealing, fan controls, and variable frequency drives at the Elementary School;  and an upgrade to interior lighting at the Fire Station.
For future discussion —
transportation, which currently accounts for the largest use of petroleum (66%) in the U.S.
additional solar installations
a free tire inflation station
additional energy efficiency measures
Energy is an issue that will be with us continuously into the future . Energy education is perhaps the most important aspect of the Town's energy activities, one that can result in the largest impact over the long term.  Renewable energy and improved efficiency projects like those above can translate into energy awareness that spreads into many other areas.