Project History and Timeline
Big thanks to everyone for your patience and support throughout this multi-year effort to bring municipal broadband to Shutesbury!
12/15/2019: The big snow storm a few weeks ago put us a few days behind but it's still looking great to get all installations completed by the end of the year!
12/1/2019: Now is the time to let us know if you signed up and still don't have an installation appointment. We will be wrapping up installations to all residents over the next three weeks.
11/14/2019: 75% of installations are complete! This means there are about 180 more residents waiting on their installation.We are carefully tracking all addresses to make sure everybody who signed up will be installed by Christmas. If you don't get your installation call by December 1st, please contact us (the broadband committee) to check on your status.
10/31/2019: With up to four crews working simultaneously we're making a big push to get as many homes installed before Thanksgiving as possible and everyone done before the end of the year. By tomorrow, over 530 homes will be installed and only five more homes need underground work done so we beat the freeze!
10/15/2019: This week we'll pass the halfway mark of completing over 380 home installations!
TV SEMINARS: Come learn more about how to optimize your new internet connection for Television Programming, local channels and other streaming entertainment. October 3rd and November 16th. Sign up HERE. Can't make either? We'll collate the information from both sessions and post. Here is the summary from October's session plus a matrix of TV options.
10/1/2019: About 1/3 of the town's residents are connected now and we're on track to have everyone installed before the end of the year. Throughout October our goal is to keep the fast pace of installations and simultaneously work on finishing all underground construction before the ground freezes.
9/14/2019: In addition to having more installers and earlier start times we're making a change to the way aerial installations are done. Crews will be "pre-hanging" aerial lines going down driveways in advance of your installation appointment. You don't need to do anything or be home for this to happen. So, don't worry if you see crews working on the utility poles in your driveway and you still haven't received your installation appointment - it is all part of the prep work we've added to speed up the installations.  The order of installations will generally be moving north to south from the Lake Wyola area. While the lake area gets the last 20% of installations done other areas in town are simultaneously starting to be installed. Don't get concerned if your neighbors get installed and you still haven't received your call yet. The order of installations is affected by how testing results are received, the type of installation, plus logistical and technical factors. Every single address in Shutesbury is tracked very carefully. Nobody will be left out or forgotten!
8/28/2019: Additional installers are coming on board to speed up the number of installations throughout the fall. We are on schedule to have nearly the whole town connected by the end of December.
8/14/2019: All prep work for underground installations is on schedule to be done by the end of October before the ground freezes. Network testing and verification continues and the mainline construction firm has sent additional subcontractors as well working Saturdays to try finish as soon as possible so installations can happen more rapidly.
8/1/2019: We are about 8 weeks behind schedule and the new goal is to have most of the town installed by the end of the year. The delays are due to network testing and verification which affects the rate at which installations can be performed. To move the project forward the mainline construction firm has hired an additional subcontractor and has dedicated more resources in order to complete all testing this month. Underground installation prep work is ahead of schedule and we'll finish well before the ground freezes. We appreciate your patience and will continue to keep posting updates.
7/19/2019: We're analyzing a new target completion date based on the testing and verification delays and will have an update on that in August. In the meantime, installations continue daily in the Lake Wyola area.
7/5/2019: Underground installations continue to happen throughout town and the Elementary School got installed this week before summer school started. We've had a slower start to the process than anticipated due to some network testing and verification delays but after that is complete installations will continue more rapidly in the Lake Wyola area.
6/27/2019: Want to see how fast the network is? The library was completed this week because their previous provider contract was about to expire. Visit and enjoy their lightning-fast guest network.
6/19/2019: Now that the underground installation process is up and running, other residents who have aerial service will start getting their installation scheduling calls next week. With the short holiday week, the first full week of live service installations will commence July 8th. 
6/12/2019: Underground installations are happening now in the Lake Wyola area.
6/6/2019: The Billing setup system has been corrected and Crocker has sent out emails to everyone about what to do next. This glitch has not delayed installations! Underground installation evaluations have been proceeding on schedule.
5/31/2019: The Billing setup system from Crocker isn't allowing account set up. Please be patient - no need to call Crocker. They will send you an email and we'll post here when the problem is fixed. Don't worry, this won't delay your installation if you're in the first groups.
5/30/19: The north area of town (Lake Wyola and surrounding areas) will be installed first starting in mid-June. Residents of this area can expect to be contacted to make their installation appointments now through July. New underground installations (all areas) will start being planned in the first groups. We'll post here when we know which areas will be next!
Subscriber goal met!! 87% take rate!
We've exceeded our goal of 75% of Shutesbury households deciding to get broadband service. Great job to the committee, staff and volunteers who led this sign-up campaign.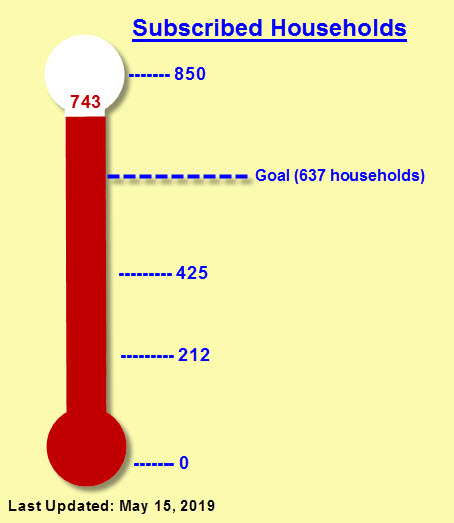 ---
Current News Updates - Project Timeline
March 26th - VOTE PASSED!
Vote passed to use $274,000 of the Town's Capital Stabilization Fund subsidize the cost of bringing the fiber optic cable from the street into each home and installing the necessary electronics.
Cost for a standard installation will be $200, which will cover the cost of installing the fiber network equipment to your home (regardless of driveway length or type of installation) and inside your home. See the broadband home page for more information.
March Update: We have passed the 50% completion mark on the completion of the mainline distribution network of fiber. TriWire trucks have been out with multiple crews working hard since January. We're on schedule to be ready for home installations starting in May! We'll be posting installation details, monthly rates, and other important information in advance of the Special Town Meeting happening on March 26th.
SPECIAL TOWN MEETING: Please come to the Tuesday, March 26th Special Town Meeting. This meeting was advertised in Our Town as March 6th but it has been moved to March 26th. More details plus meeting time will be announced closer to the meeting date.
February Update: The 9x15 building (hut) that will house all of the electronics equipment to run our network was put into place at the Town Hall. The hut was delivered by truck and then a very large crane lifted it into place. It was an exciting moment and another step towards bringing broadband to Shutesbury!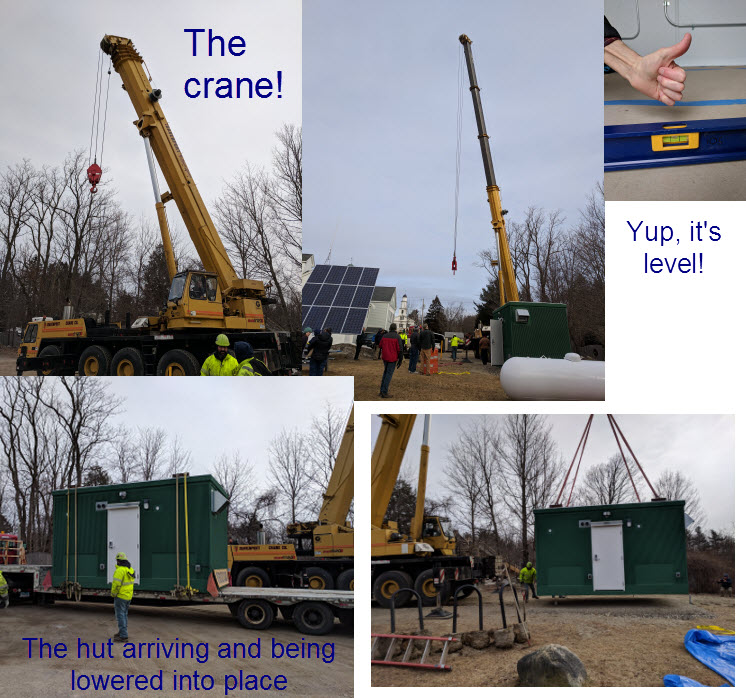 Hut_Pictures
January 20th Update: Announcing the Broadband Logo contest! Our town-owned network needs a logo and we're looking for your great ideas. We're holding a town wide contest for logo design. Any Shutesbury resident can enter. Entries are due on February 15th and will be chosen by the Broadband Committee. Get the full details here! Contest is also being announced in upcoming edition of Our Town and contest details will be available at the Town Hall and Library this week.
January Update: Happy Broadband New Year!
Today, January 2nd, construction started. You will see TriWire trucks working today on Wendell Road headed towards the lake. Trucks and workers will be on our roads over the next several months building our broadband network. Trucks will visit each road twice - first to put up the steel support cables then to hang the fiber optic cable on the support cable. Police details will be assigned for all main roads, but please be extra careful and aware when driving so we keep everyone safe.
When will we actually be getting broadband in our homes and will my road be first?
Installations to homes will start when the mainline is mostly complete, likely in May. The order of which areas get installations first will be determined by our builder relative to what is most efficient and cost effective.
How much will it cost and how do I sign up to get broadband installed in my home?
Stay tuned! We're getting final budget numbers and working out the details and final costs. When it is time to sign up we'll be announcing it widely throughout town and making sure all residents get the information you need to sign up.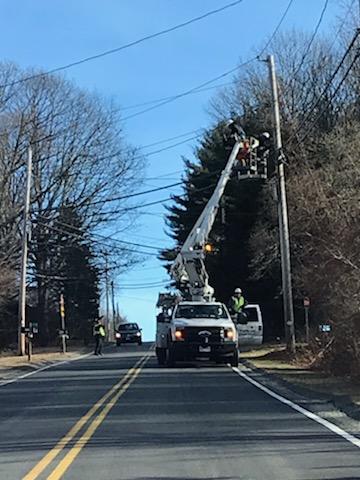 MAKE READY IS COMPLETE! Our long (long,long) awaited make-ready work by the utilities has finally completed for the mainline network. We can now build our network! Mobilization is in process and we'll start construction in January along roadways. Installations to homes will start when the mainline is mostly complete, likely in April/May. The order of which areas get installations first will be determined by our builder relative to what is most efficient and cost effective.
GROUNDBREAKING! Site work started today behind the Town Hall to get an area ready for our Broadband building. By March a small concrete structure will be placed on the prepared site. This building will house the electronics in a secure, climate controlled area with generator backup. This is one of the tasks we're doing in advance of the make-ready completing - see more on that below.
Special thanks broadband team members Steve Schmidt and Graeme Sephton for their work making this happen -  as well as the highway dept. This is our groundbreaking!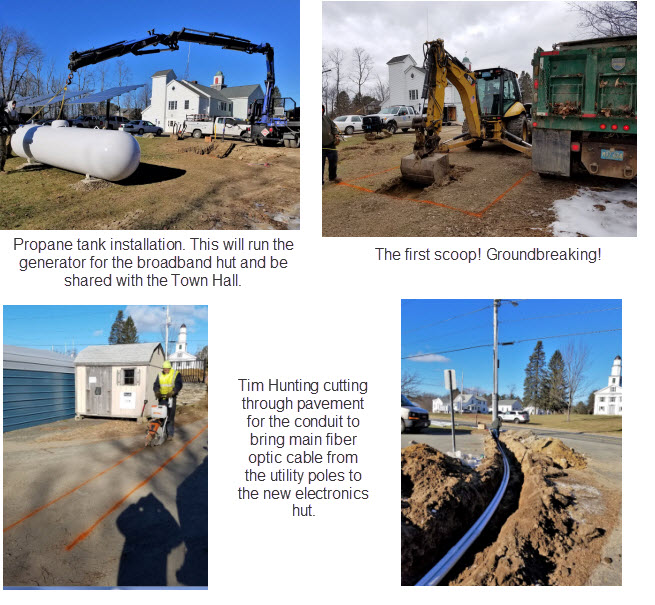 December Update: We are entering into contract negotiations with Crocker Communications for Network Operations and Internet Service Provider services. Crocker won the bid as the most advantageous and lowest price vendor according to the terms of our recent RFP. After negotiations have concluded and a contract is signed, we'll provide further details.  If you wish to get your deposit back now, you're welcome to do so. Visit their website here. Because the money has been held in escrow , you have to make the request individually in writing to get your deposit back. For legal reasons it can't be done as a group request or simply transferred over to project funds.
November Make-ready Update: We will STILL be getting broadband in 2019. But service will come to your homes in summer and fall. Construction will start in early spring 2019.
The culprit is Verizon. To stay on our spring schedule we needed make-ready work to finish up this fall. The delay is not entirely Verizon's fault since before them, it took Eversource and National Grid many months finish their parts. But now Verizon is the last gate to us starting construction.
We did our best over the last year to push the utilities using the political channels at our disposal. By working with the governor's office and their agents we WERE able to move the work forward but it still fell short. We have already filed a formal complaint with the Massachusetts Department of Telecommunications and Cable.
Note that this is a nationwide issue. Every telecommunications company in the country that wants to use utility-owned poles struggles with the process – including enormous companies like Comcast and Charter! The make-ready process is expensive, slow and inefficient and will not improve until laws change at the federal level.
We did anticipate that the make-ready work would be problematic and started the process over a YEAR ahead of other towns in Massachusetts. So we're still at the front of the line compared to other towns.
In addition we have completed all the parts of the project we can in advance such as securing all funding, executing an on-budget construction contract, and making sure all materials and 40 miles of fiber cable are waiting in a warehouse ready to be used for construction. As soon as Verizon finishes, we can start construction.
Verizon has given assurances that crews are being directed to Shutesbury to finish the licenses process and the Dept. of Telecommunications and the Governor's staff are aware of the problem and are working to make sure they stay on track.
We'll continue to post regular updates here.
Update 11/26 - The DTC complaint has gotten the attention of the utilities. Verizon trucks working on Pratt Corner Road today. Eversource and Verizon will be visiting the January Hills area of town later this week.
 Update 11/27: Eversource identified the electrical issue on January Hills Road this morning and a crew will be out later this week to remedy so Verizon can finish their work there.
NEW Update 12/6: Verizon should be seen in the January Hills area this week or next. We're also waiting on Verizon to get over to the Lake Wyola area to transfer their cables to the poles that were installed earlier this year.
November 2018: It's November and Verizon has yet to finish our make-ready work but we're doing everything we can to move other parts of the project forward.  By December we'll be doing site work at the Town Hall to prepare an area to accept our 9x15 electronics building and network hub. We've secured the services of a builder who is poised to start construction as soon as make-ready is complete - and the bid is on budget! There is only about 15% of the make-ready left to complete so we're hopeful that it will be done very soon. Our agents at Westfield Gas & Electric as well as staff from Governor Charlie Baker's office are aware of the Verizon delays and are doing everything they can to move this work forward.
October 2018: What about those underground installations?
We're committed to making sure all installations are done to proper standards for reliability and safety. We did an evaluation this summer of all underground-served homes and analyzed the results. We're recommending that everyone wait until Spring to take any action on their underground home installation. Here's why:
-Installations won't start till early Spring so rushing to get conduit installed now will NOT help you get broadband sooner
-Having a variety of contractors or homeowners perform this work on their own now increases the risk of work not being done to proper specifications.
-Homeowners or other contractors doing the work means we'll need someone on our MLP staff to answer questions and approve the work. It's a more efficient use of our resources to focus on getting the mainline distribution complete as soon as possible THEN focusing on home installations.
-We will be able to go out to bid for single contractor for many homes all at once this spring which will fetch a much better price and lower costs for everyone
-Having a single recommended contractor means we can streamline the sign-up process and get everyone service faster
-We'll likely be able subsidize some of your out-of-pocket cost for your underground installation when we know the total project costs after final bids come in this winter.
For those of you who will want to use your own contractor or perform the work yourself, we'll certainly allow that option if you follow the specifications which will be available this spring. Waiting until the spring means provide you correct and accurate installation specifications.
September 2018: This month we're reviewing both the construction bids and the RFPs for the internet service provider (ISP) who will be running our network after it is built. Make-ready work continues on Shutesbury roads and you've likely seen lots of Verizon trucks around town. As long the Verizon work can complete by November we can stay on track to deliver service this spring to all residents. We met with Governor Charlie Baker at the end of August and his officials are doing everything they can to help ensure make-ready proceeds as quickly as possible. At this juncture our project is on-budget and is poised to finish next year as projected.
August 2018: This month is a flurry of activity! We've put out the construction bid for the company that will be constructing our network, ordering our central hut to house electronics, and putting out an RFP for the internet service provider (ISP) and operator who will be running our network after it is constructed. We know many of you with underground installations are concerned about being able to install new conduit before the ground freezes and are doing everything we can to make sure we get information out about this for fall.
July 2018: Saturday, July 7th between 9AM and 1 PM we're doing a townwide evaluation for all homes that get their utility service underground. No need for you to be home! We're looking to see which homes will need new conduit installed and this will involve a simple visual inspection of your existing utility service. This information will be used to help plan broadband delivery to your home. We'll send out more information before fall about the results and what you need to do next.
Note this ONLY affects underground installations! Homes served with overhead lines attached to utility poles won't be visited since your broadband will reach you above ground.
Want to save us some time? If you already know your utilities are buried directly into the ground (no pipe or conduit) send an email to broadband@shutesbury.org. Put "No Conduit" into the subject line and be sure to include your home number and street address into the body of the email. **If you're not sure or think you might have usable conduit, please refrain from emailing. We'll just keep you on the list to come and take a look. Only let us know if you're sure your current utilities are direct buried.
What if I know I have an existing spare usable conduit – should I email you?
No, please let us come and take a look to make sure what you have is appropriate for broadband installation.
What if I have overhead (aerial) service and I want my broadband to go underground instead?
We'll have more information available about certified contractors who can install underground conduit for you this fall.
What if I'm one of the homeowners who needs to put in new conduit? How much will it cost and how will it be done and when?
We can't answer this yet. Saturday's evaluation is an important step to get the information we need to answer these questions. Our goal is to make sure broadband gets to all residents in the most affordable way.
What if I don't want broadband?
You are under no obligation to take service. It will be available for all residents who want it.
What do I do next? I really want broadband.
There's no action for you to take yet. After we've finished the design phase (happening now) and evaluated the factors that affect home installations we'll make widespread town announcements about how to sign up and what to do next – likely late this fall.
June 2018: Make-ready is continuing and our next step is organizing a townwide evaluation of all houses that have underground utility service to see if your existing conduit can be used to bring you broadband service. These evaluations will happen in July. Stay tuned for more information about this process that will be coming out by the end of June.
May 2018: Thanks to everyone for your support at Annual Town Meeting! We are working on the final draft of our network design with our project engineers. Here is the presentation that was shown at Town Meeting in case you missed it: May 2018 Town Meeting Presentation
April 2018: Make-ready is continuing now that the weather has improved and we received some great news from the state that the grant program is expanding to include make-ready overages. This is welcome news because the make-ready charges from the utility companies were much higher than expected. The additional funds will help keep our project on budget!
February 2018: Make-ready has slowed down a little due to the weather. We're working with Westfield Gas & Electric on our network design.
December 2017: Make-ready work has started in our town. Over the next three months you will see bucket trucks from Verizon, National Grid and Eversource out on our roads. These crews are preparing the utility poles to accept our fiber network. Please be extra cautious when driving since these trucks take up a lot of road space and our roads are even more narrow than normal because of snow banks. Be careful when passing to ensure that everyone stays safe.
November 2017: What's up with net neutrality and how will it affect our broadband project? Unlike most of the country who is at the mercy of their internet provider like Comcast, Charter or Verizon, Shutesbury will contract with an independent Internet Service Provider (ISP). Our ISP contract will include privacy and neutrality protections for Shutesbury residents. Towns and cities like Shutesbury who are building their own municipal networks will be able to provide these protections for residents because WE will own the network. Any FCC changes to net neutrality rules will not affect the build out schedule. On a separate topic, you may have heard that the state is making additional funds available for state-wide broadband. Shutesbury will be eligible for these funds if our project is over-budget.This additional money is a contingency to help communities who need it. We are in regular contact with state officials who are monitoring our project closely and will do everything we can to get a portion of the additional funds if we are eligible.
October 2017: It has been a busy summer and we've made good progress. In July we executed license agreements with each utility company and submitted pole applications for all 1508 utility poles in Shutesbury. This step means we're on our way into the "make-ready" process.
National Grid, Eversource and Verizon will be evaluating the condition of each of the utility poles then performing the necessary work on the poles to repair, replace and/or move existing equipment to make room for our fiber optic cable. Unfortunately the timing of this aspect of the project  is out of our control since it is performed by the utility companies and their vendors. Shutesbury was one of the first towns to submit their applications so we hope this will expedite our process.
While the make-ready work is happening we'll be working with Westfield Gas & Electric on our design and engineering plan and construction bidding so that the network can start being built next year as soon as the make-ready work is complete. This fall, you will see workers out on the roads from the design and engineering firm as well as representatives from the utility companies.
Many people have asked which areas of town will be built first but we are unable to answer this until after the design and engineering plan is complete. However, we will be working with the engineers on a build sequence that will allow us to "light up" areas as they are complete so residents don't have to wait for the completion of the entire project to get service. We are currently on track to begin offering service to the first areas towards the end of 2018 but much of this schedule depends on the utility companies completing their work on the poles.
June 27th: Lt. Governor Karyn Polito visited Shutesbury to check on broadband project status in Western Massachusetts. She emphasized that municipal projects to bring broadband to residents have the full support of the state leadership under Governor Charlie Baker.
June 5th: The EOHED has approved our grant! We expect to receive the first portion of our grant money before the end of this fiscal year (June 30). In the meantime, we are moving forward with our attachment agreements with the utility companies in order to get the utility poles ready to accept our fiber-optic cable.
May 8th: We were one of the first towns to submit our grant application to EOHED (Executive Office of Housing and Economic Development), the government agency now responsible for managing Last Mile funds.
While we are waiting for approval we've already hired a professional technician who will prepare and submit our pole applications to the utility companies so the make ready work can be done this summer. We want to extend another thank you to all of you who participated in the townwide pole surveys in 2014. This information has proven to be extremely valuable as we're comparing the professional surveys to our townwide data collection. We're the only town in Massachusetts who did their own pole survey and have this type of comparison data.
We will meet with Westfield Gas & Electric to hear their proposal to design, engineer and build our network. Construction would begin as soon as possible after the make ready work is done. Our goal is to start lighting up houses by the end of 2018 with project completion in 2019.
March 28th: Thanks to everyone who attended the Special Town Meeting and vote on March 28th. Our five member MLP board has been created.